Fatima from Ait Ben Haddou
Photography & text: John Baggen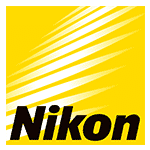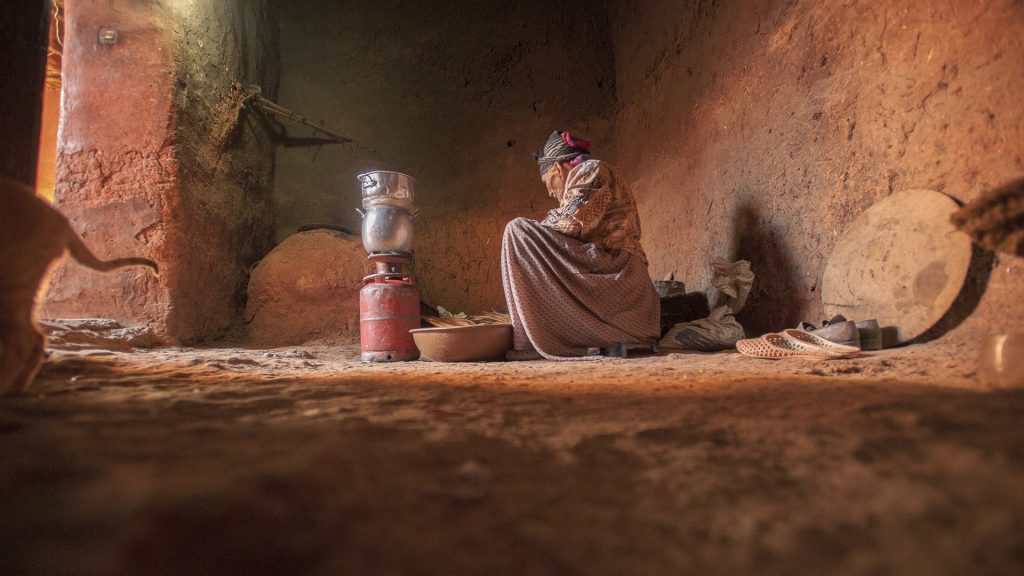 Fatima from Ait Ben Haddou,...a special encounter
If you travel from Marrakesh across the Atlas Mountains to Merzouga or Zagora to have a desert experience, you usually stop in Ouarzazate. A stop to stretch your legs or have lunch. If you left early in Marrakesh, you will be in Ouarzazate by noon. As a photographer, a bad time. The sun is directly above you and there is hardly any shade and therefore no contrast.
What will immediately draw your attention is the Kasba Ait Ben Haddou. This place is famous for its magnificent kasbahs, built against a hill. These are constructed of clay and together are called the Ksar. The kasbahs are fortified by walls with corner towers with narrow alleys between them, making them a typical example of southern Moroccan architecture. The city was declared a world heritage site by UNESCO in 1987. Ait Ben Haddou served many times as the film setting of famous blockbusters and the famous series Game of Thrones.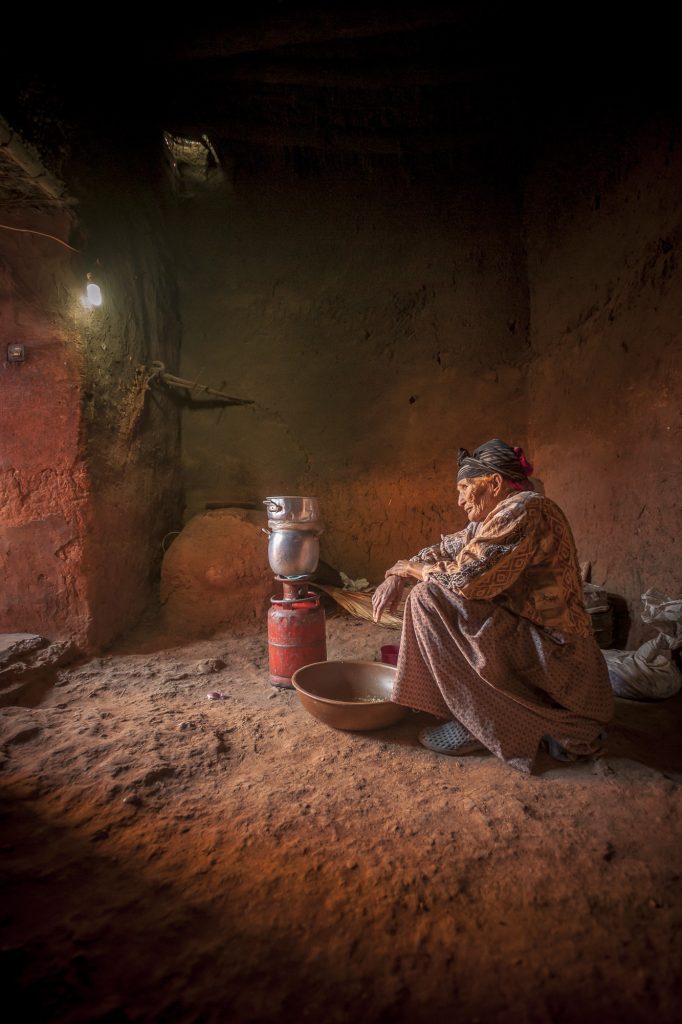 The Nikon out of the bag.
Even if the lighting conditions are not great. The Nikon must be out of the bag. The river valley almost demands a panoramic shot. So I find a nice vantage point and take a series of photos. I find myself impressed by what I see. I take the poor lighting conditions for granted. It is no different.

The disappointment only comes at home.
After three weeks of traveling through Morocco, it's time at home to start sorting and reviewing my work. I don't know about other photographers, but for me, the moment of shooting is always fraught with the fascination of "seeing. When I feel that same fascination at home behind the Mac, I have taken the picture that does justice to the moment.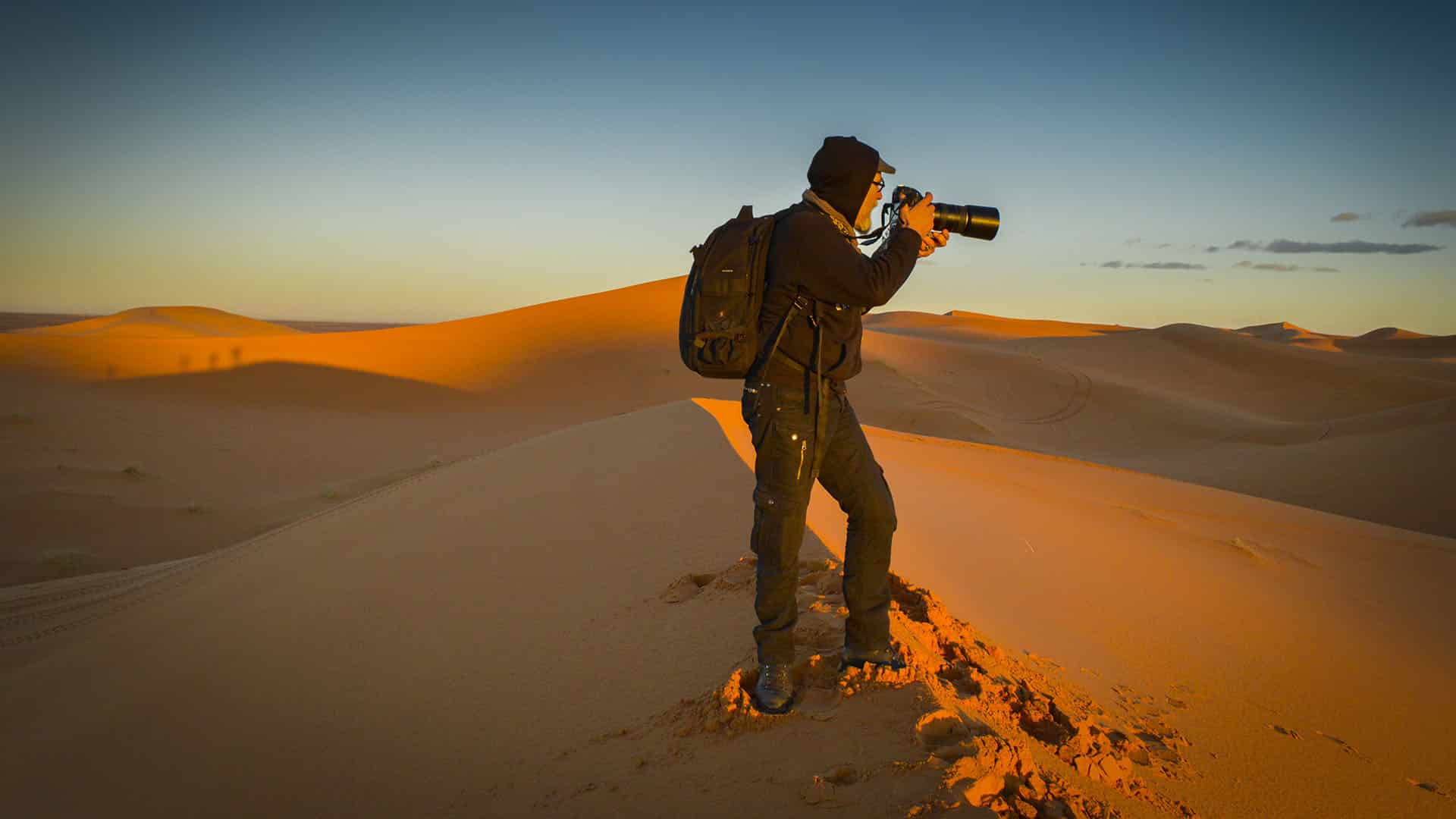 And there I stood. Three months later. I had already found a better vantage point, though, and something that looked suspiciously like water was flowing through a mainly dry riverbed. I desperately wanted that water in the picture in this gort dry setting.
My golden rule for
The Golden Hour
I have a few golden rules. One of these rules,
'

Prob

honor not organize everything,

be on time

and stay until you are completely satisfied.

'
So I was on time. Zourset was expected around half past seven and ik was there at five. Camera tripod set up and the Nikon D5 mounted on it. New pack of Marlboro in your pocket for the usual 'Time killing 'smoking'. Slowly but surely, little by little, I see the light changing. At that moment, light direction starts in my head. I take what ijkpoints in me. When soon there the sun goes 'ironand'…. that's my moment. I take some spot measurements and stick another Marlboroot on. Just waiting, this is going to be totally fine.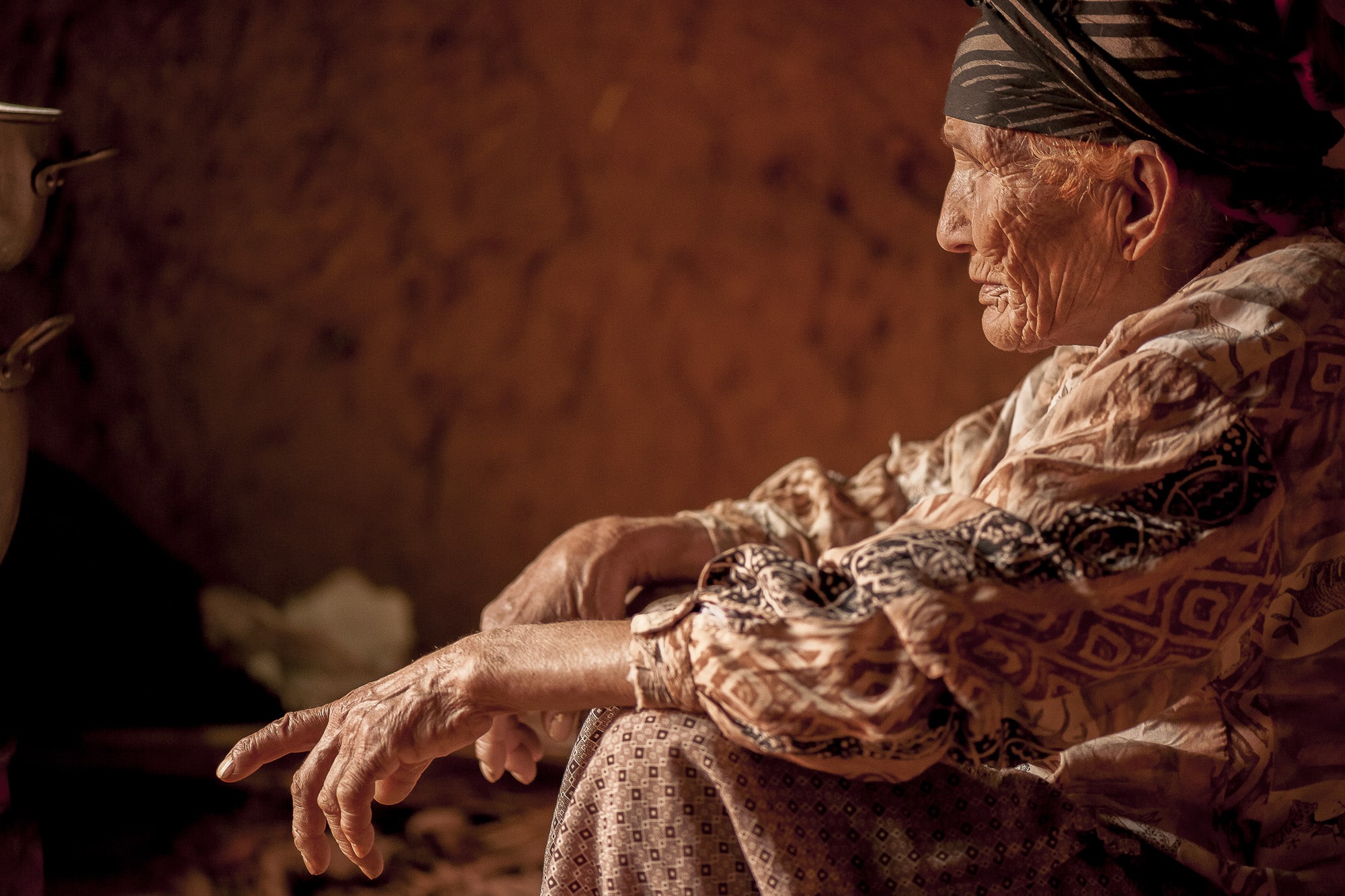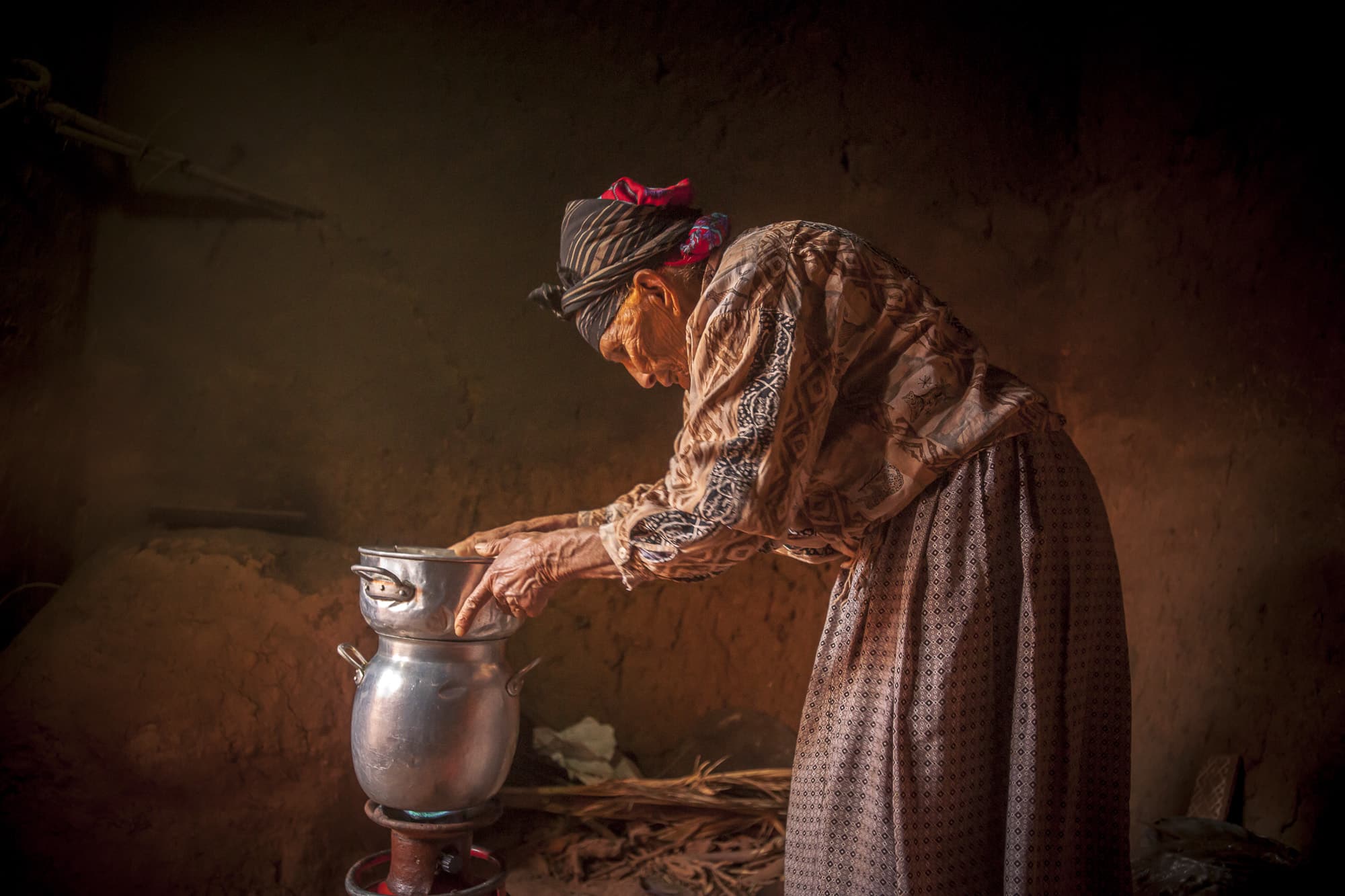 In the corner of my eye, I see someone approaching. An old lady. She gets closer and closer and I see a beautiful authentic woman. I estimate her closer to ninety than eighty. If there is "god for photographers would exist then it could not be otherwise than that He sent me this old woman sent me. She is carrying a wicker basket and clearly has a destination. I was fervently hoping she would "walk through" my image but that turned out differently. Very politely, she made a big bow around me.
Marion my silent strength
Whenever I travel, my wife Marion is my silent force. She does pre-production and on location she does what she can to bend circumstances to our will. She gets things done as a woman that I certainly wouldn't have gotten organized as a man. So too now.
Marion decides to do a piece with her walk up and have a "chat. A talk that consists of communication with hands and feet. She does not speak Berber and the womantje no French, German or English. The female appears to be named Fatima and is looking for leafy greens for her donkey. Marion helps her search and weed out the donkey feed.
After a while she returns and she is invited to Moroccan tea at Fatima's house. I keep waiting for the light. At least two hours pass. Marion returns with geweld news. Tomorrow morning at 10 o'clock we may do a portrait series of Fatima as his goes about making Couscous the traditional way.
Mearly this morning we have an appointment. A appointment and a meeting that would become as surprising as it was moving.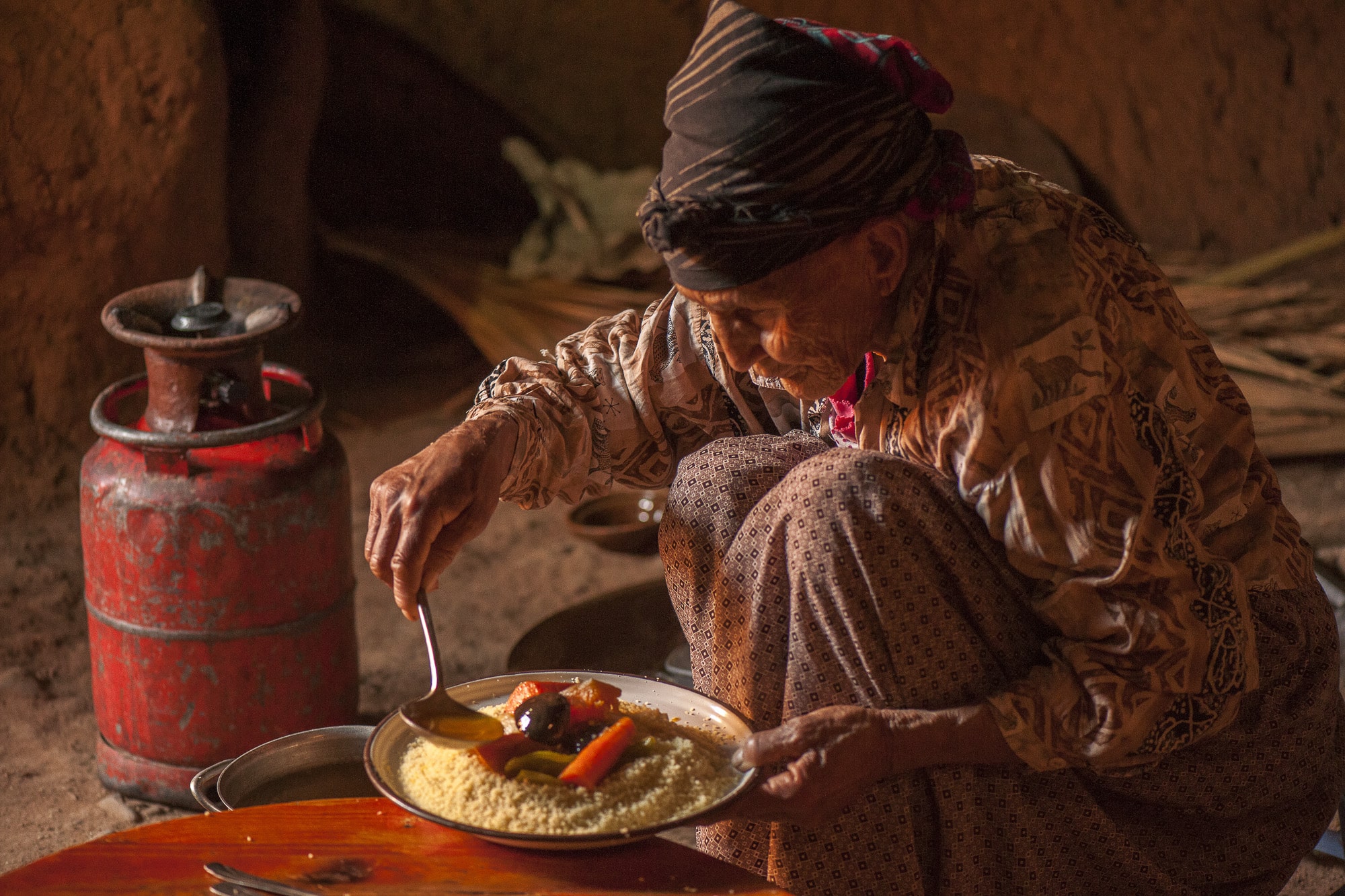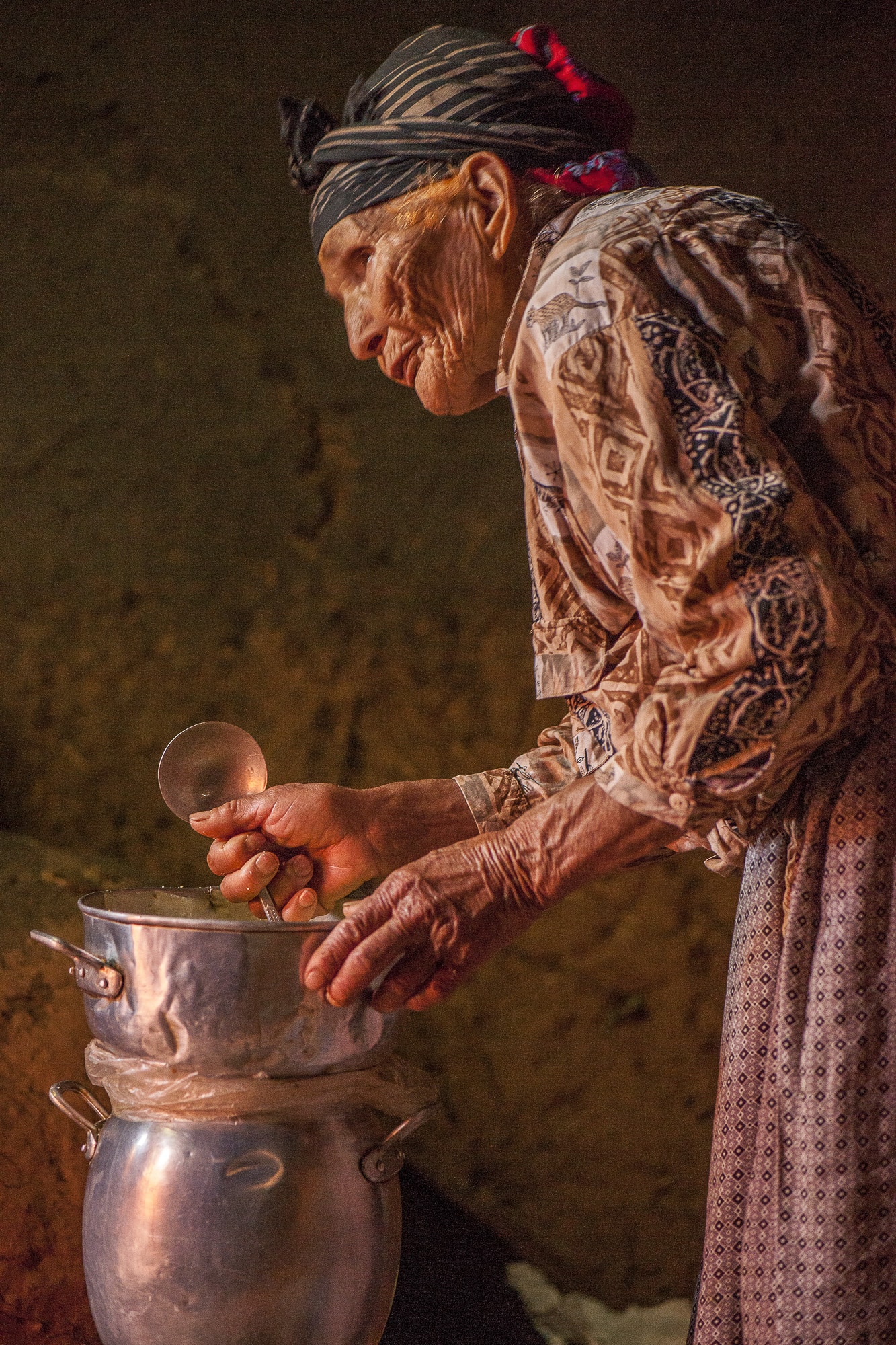 Everything falls into place
The next morning we walked at our leisure from the hotel to Fatima's house. It is a small village so with about ten minutes we are at her doorstep. Without being able to exchange a word, all are warmly received. First, let's have tea. Tea with delicious Moroccan cookies.
With a pan and a plastic tub, Fatima begins the Couscous. Her "kitchen" is a cooking place. A lemand hut with an entrance where the morning light seems to dwar like a silk cloth over everythingreld. A light Rembrandt would have envied. There is only a gas bottle with a burner on it. This is where it will happen.
The ice has thawed and very modestly I take the first shots. Fatima is a natural. She has no interest in the camera at all en gets to work on her Couscous. The light is really exceptionally beautiful. Except for daylight, one light bulb is on. The combination of day and artlight makes the scene extra idyllic.
When the Couscous is ready Come her great-grandchildren. Just sitting on Grandma's lap and feasting on her Couscous. Filled with a warm feeling, we seem to have known each other for years. We say goodbye but not forever. Every time we are in Morocco we go to Fatima on the thee. A special encounter that we carry with us like a little treasure.