Lost village or preserved treasure?
Photography: John Baggen
Text: Marion Baggen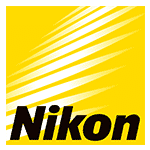 A village in the Bjelssnica Mountains
We had already completed an entire journey of some 5,700 km through the Balkans. For weeks the photographer's eye had been spoiled by the most idyllic spots. Breathtaking nature, rocky mountains and without taking part in the TV program, we regularly drove on "The most dangerous roads in Europe. Yet there was one village we still wanted to go to. Lukomir, a village in the Bjelssnica Mountains, lies at an altitude of1495 meters and is the most isolated village in Bosnia-Herzegovina.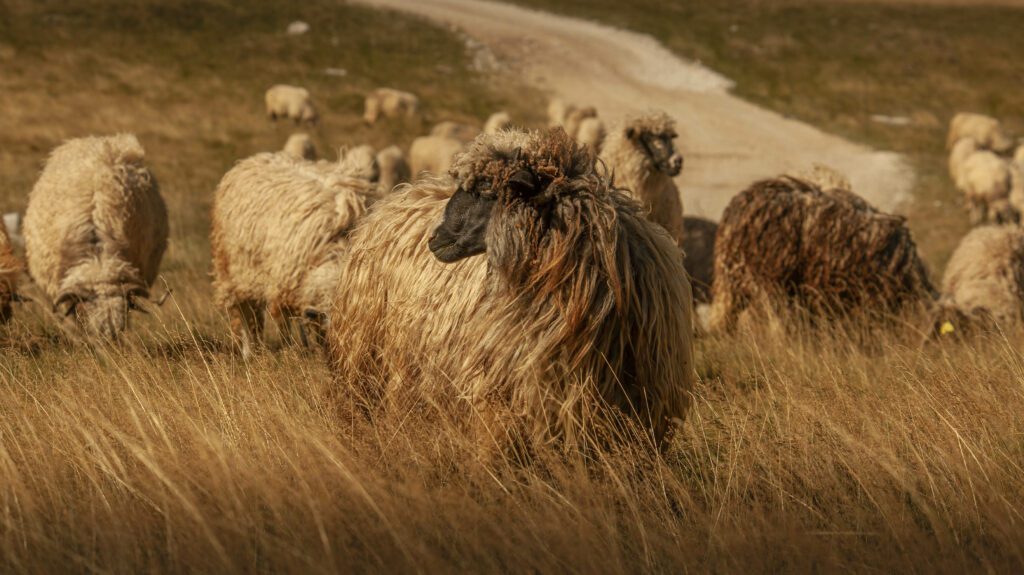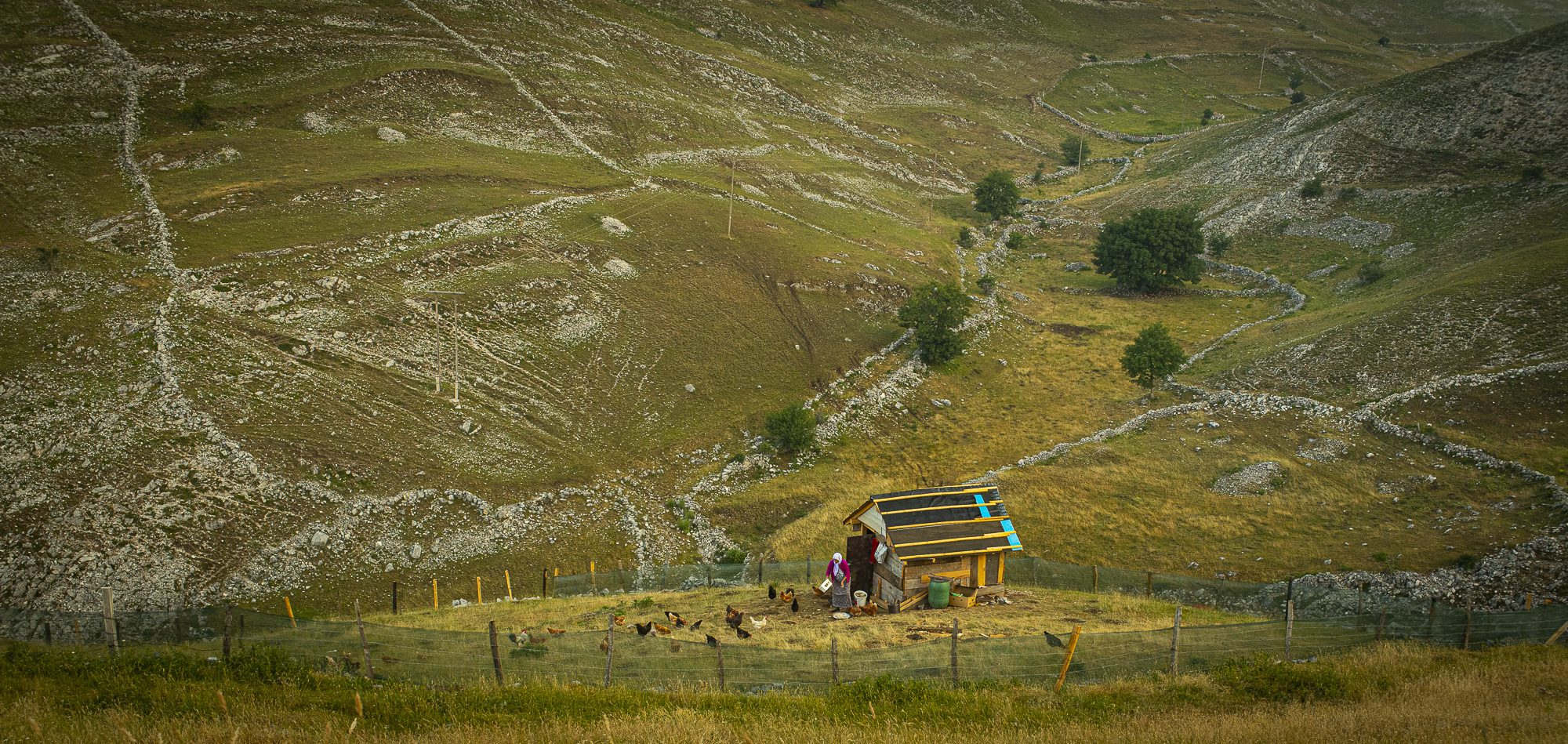 The journey to Lukomir is miraculous
In kilometers, the distance is not even that far. Still, the difficult road through the mountains makes for quite a travel time. We travel from Mostar toward Sarajevo. Just before Sarajevo, we take a right turn. We exchange the fine two-lane road for a narrow and bumpy one. Miles later, no more remains of that road than a gravel path.
The setting becomes surreal with the clear blue sky with strange "UFO-shaped" clouds. Deep chasms alternate with open plains filled with rocks. The sun shines brightly and the surroundings feel like a movie set. We don't run into anyone. We don't see any houses …just our interpreter and us on a gravel path through the mountains on our way to Lukomir.

The rocks in the distance seem to be moving. As we get closer, the rocks protruding from the grass turn out to be sheep. Lukomir, after hours of driving, cannot be far now because the inhabitants of Lukomir have lived off their cattle for centuries. The sheep's wool is woven into traditional clothing and countless socks and gloves are knitted from it. We have read about it and are very curious about the people who have lived their lives there undisturbed for some 400 years. A life that seems barely affected by the world around them.
In front of us are giant mountains. Suddenly a wooden sign tells us we have reached our destination. The cottages with their rusted metal roofs blend almost seamlessly into their surroundings. We drive into the village and after about 150 meters we can't go any further. The view of the mountain peaks across a deep valley makes you feel like you've arrived at the end of the world. We are standing on a huge boulder, the mountains on the other side seem to be covered with a blanket of moss. In the backlight, the mountain ridges appear soft as silk. The view is breathtakingly beautiful. To our left is the old cemetery as a silent witness to the history of Lukomir.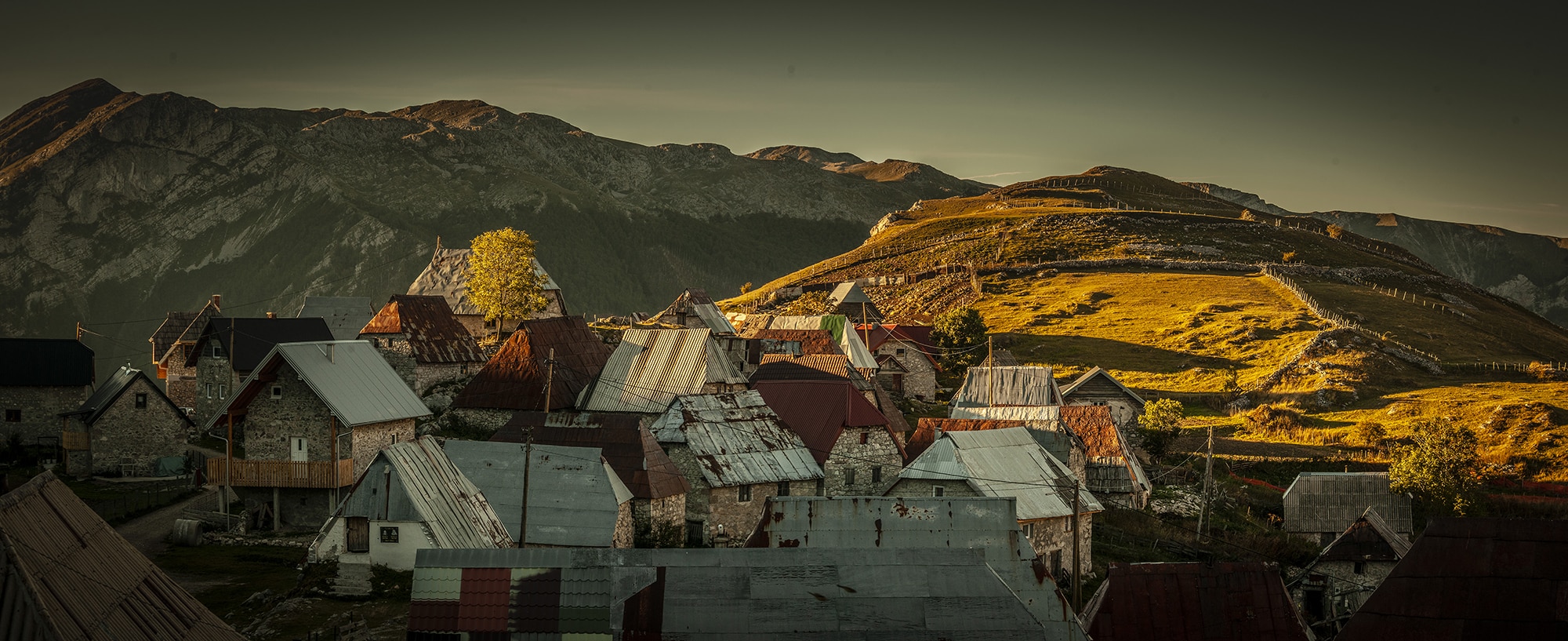 The village has about 30 houses
The village has about 30 houses built of gray stones. Some houses have been visibly restored. There are no streets but paths created by frequent use.
The village seems deserted yet we feel that we have not gone unnoticed. Not that much happens on a weekday in Lukomir! We bring our luggage to the house where we will spend the night. Amelie a young woman is our hostess and welcomes us. She takes us to the kitchen where she is preparing our dinner. In Bosnia, a girl cannot marry until she can cook and bake.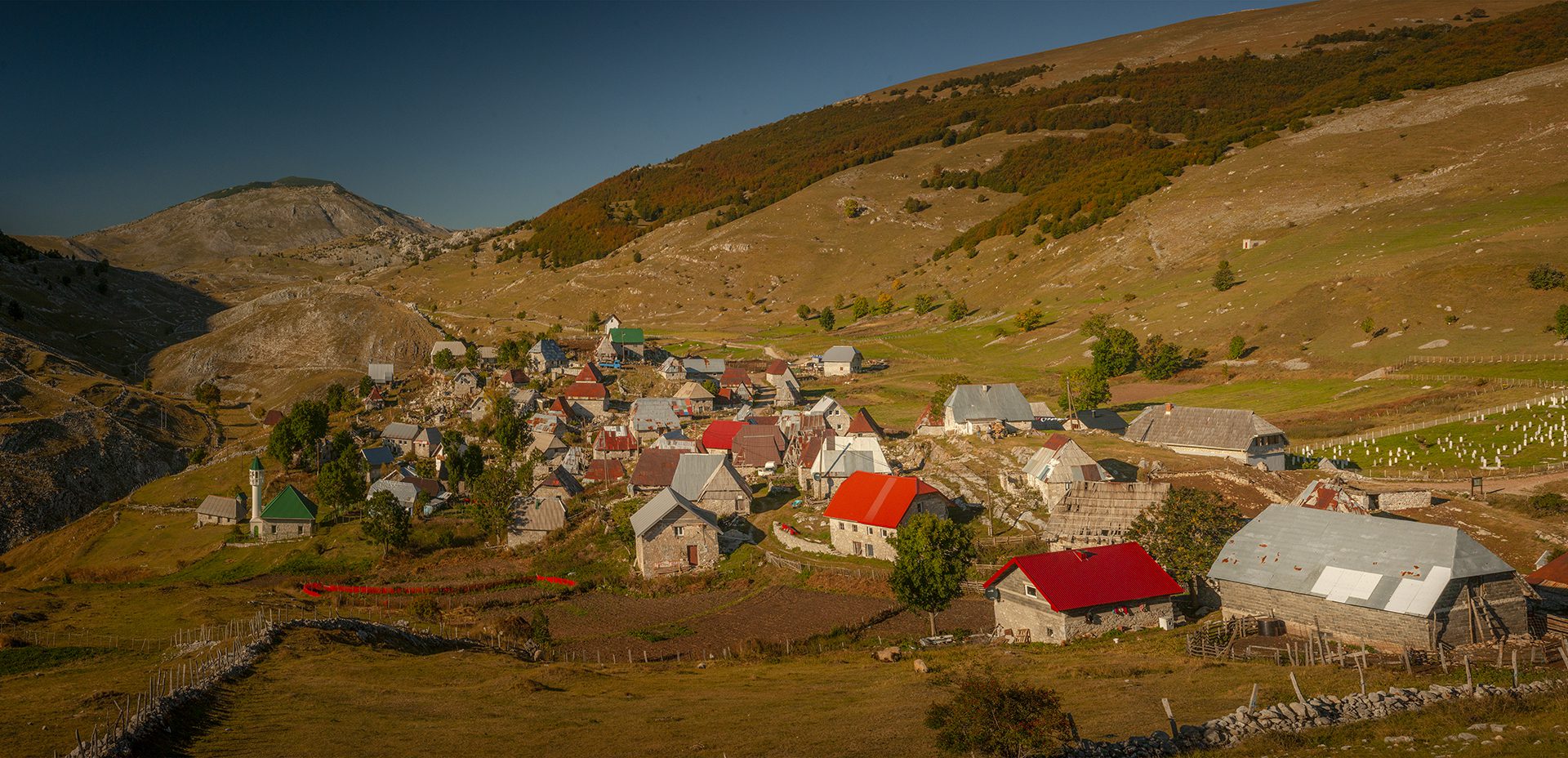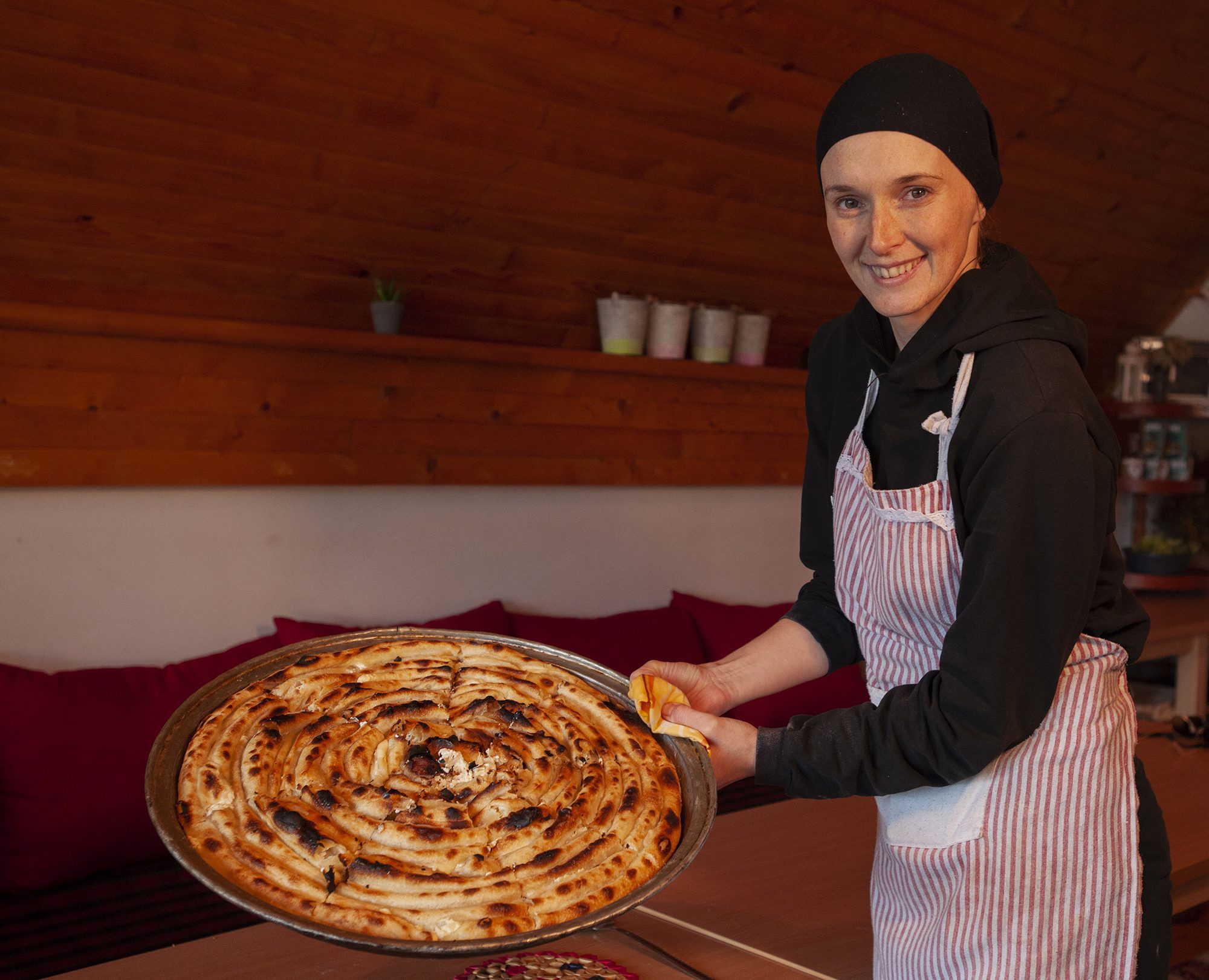 Amelie is married and has baking in her fingers. In the kitchen, she continues her work. She kneads and rolls out dough into a wafer-thin pancake more than a meter in diameter. The dough is cut into strips and filled with sheep cheese. Each bar is rolled up and spiralized on a large baking sheet. Amelie's father, meanwhile, lit the wood-burning oven outside. The baking sheet goes in and a large lid goes on top. After 20 minutes, we are seated at the table. We drink tea with honey and Amelie presents her sheep cheese dish. It tastes delicious. This way there seems to be no end to a gravel path, and this way you are sitting in a house in Lukomir eating delicious food.
The obvious hospitality feels like a warm blanket. After dessert we go outside because we want to meet people.
Coffee in Bosnia means making time for each other.
At a cottage down the road. A little higher up than the house where we are staying, an elderly couple sits outside on a log. The woman gestures for us to sit down, as there are plenty of logs. Thanks to our interpreter, we can have a conversation. The woman, long past eighty, goes inside and returns a little later with a tray of coffee.
Coffee in Bosnia means making time for each other. Into the small cups first comes a sugar cube, then a spoonful of coffee grounds is added, only then is coffee poured. The man, meanwhile, continues his carvings imperturbably. While the coffee was being poured according to tradition, the man used a small axe to turn a block of wood into a wooden ladle. The woman picks up her knitting again, and while talking, she continues knitting a pair of socks.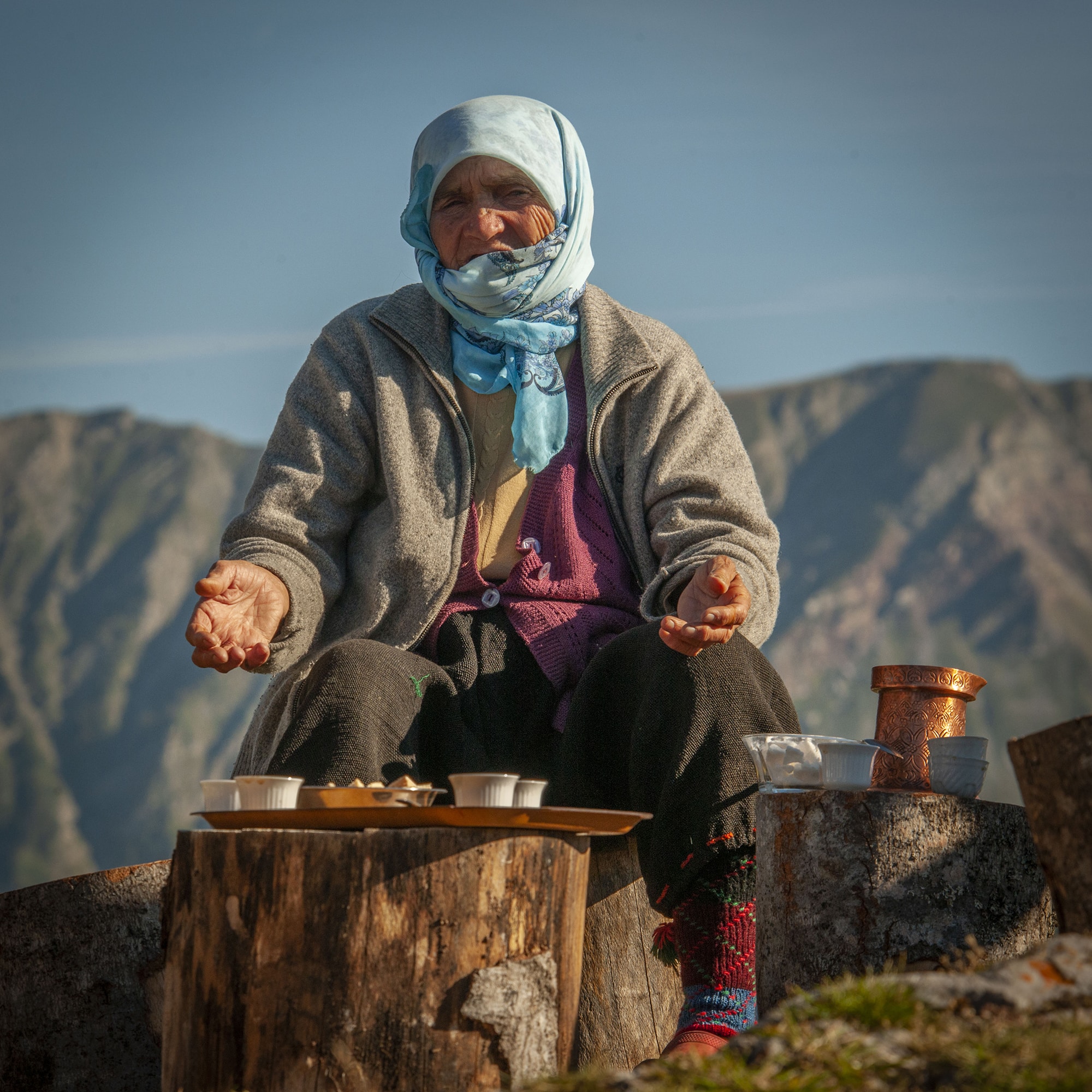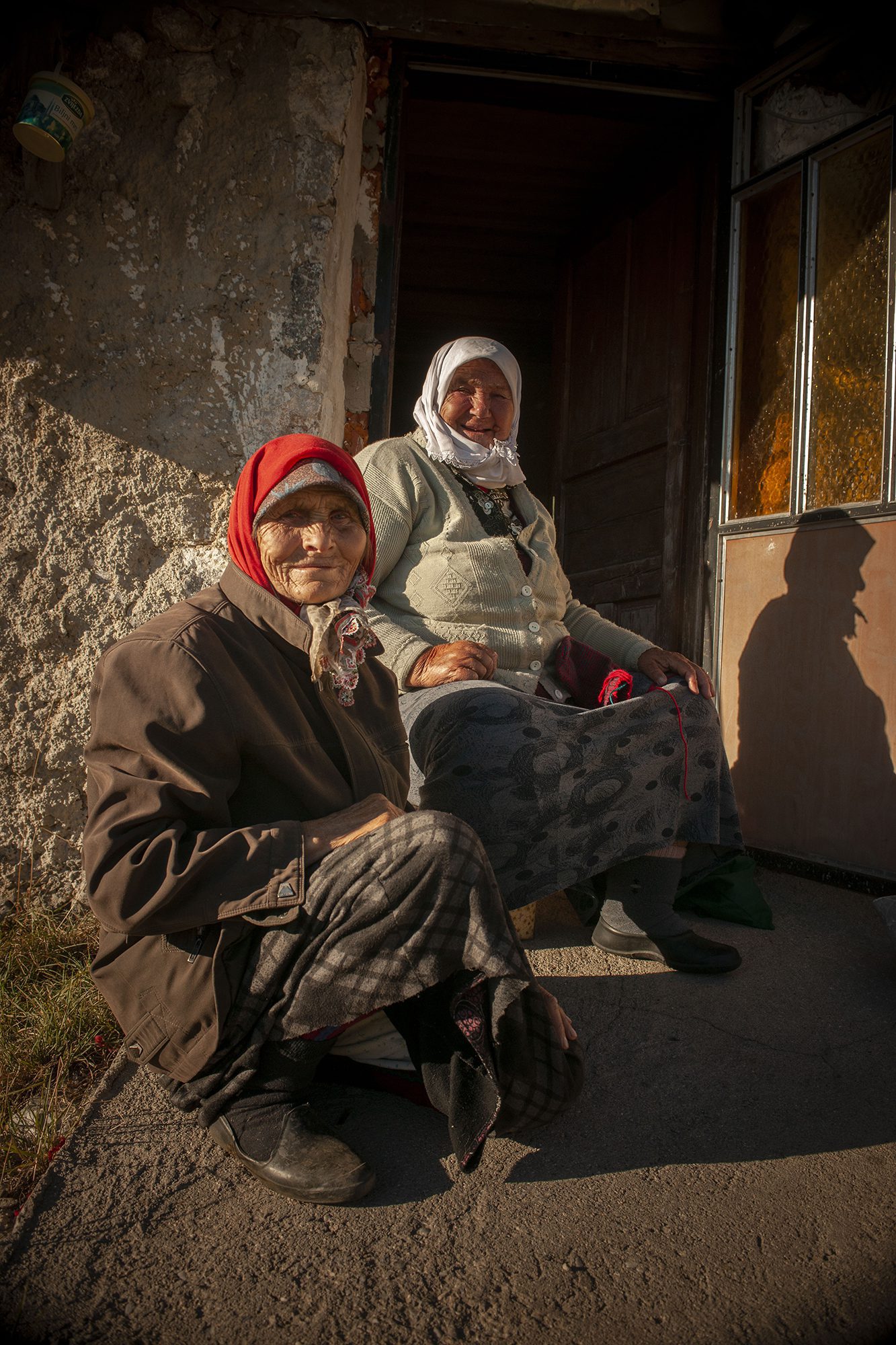 Life in a mountain village has few luxuries
Life in a mountain village has few luxuries. Only a few years there is electricity and that is quite a change. People have TV now. Outside are antennas on the ground that must be manually aimed for any reception. In Lukomir, everyone makes a living. So the endearing elderly couple planted a vegetable garden next to their cottage.
The man and woman exude simplicity and cordiality. Outside in the sun, their wrinkled face takes on a golden glow. The many layers of clothing they wear make for a colorful ensemble. Up there, at the top of the mountain, the color of the woman's headscarf blends almost seamlessly into blue sky. Two neighboring women walk up and also take a seat on one of the logs. Of course they are in the mood for coffee. We are busy talking to each other about everyday things. Our interpreter bridges the language barrier. As we say goodbye, the man promises to make a few more ladles for us tomorrow
The magic of soft string light
The sun intends to bid us farewell. For a photographer, the soft skimming light of the setting sun is something magical. This time of day is THE moment we have been waiting for all day. We go to the place in the village that we picked out in advance. Lukomir now lies in the beautiful light of the setting sun.
We see from our spot on the hill the shepherds with their flocks of sheep approaching from all sides. The wool seems to "roll" off the mountain. The village, with 27 residents still 80 plus, will gain 1,700 sheep and a few cows at that time. Total concentration to capture the moment. Breathless, we see how everyday life gets ready for darkness. Each shepherd brings his flock to the corral. The fences will be closed. The houses are now surrounded by hundreds of sheep. The color palette of this scene takes on a golden glow as if brushed by the sun over this scenery. The shepherds are called inside for a well-deserved meal. Their sheepdogs take over and watch over the flock until dawn. Everything becomes silent and only when the last ray of light disappears does the camera pack up.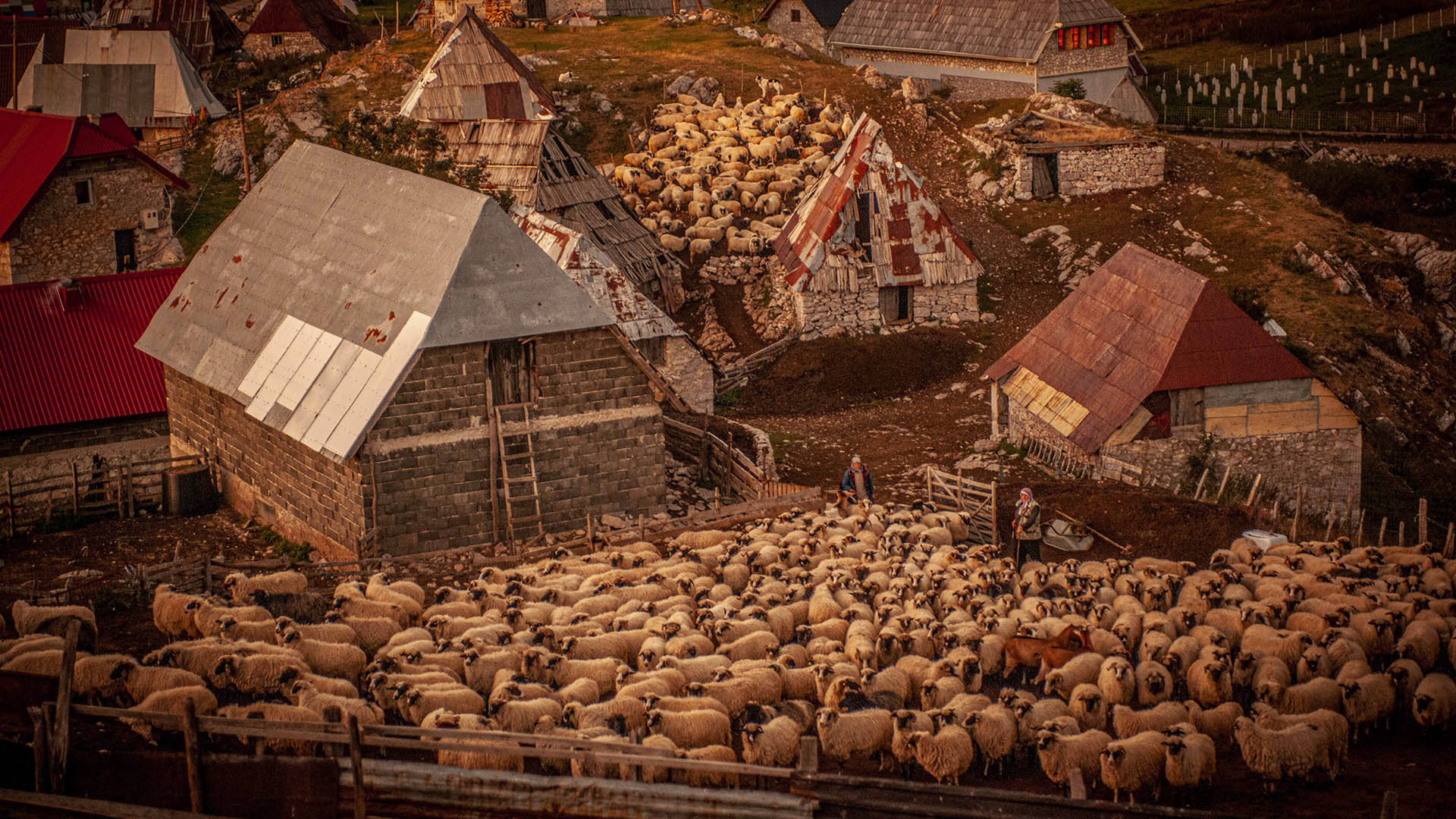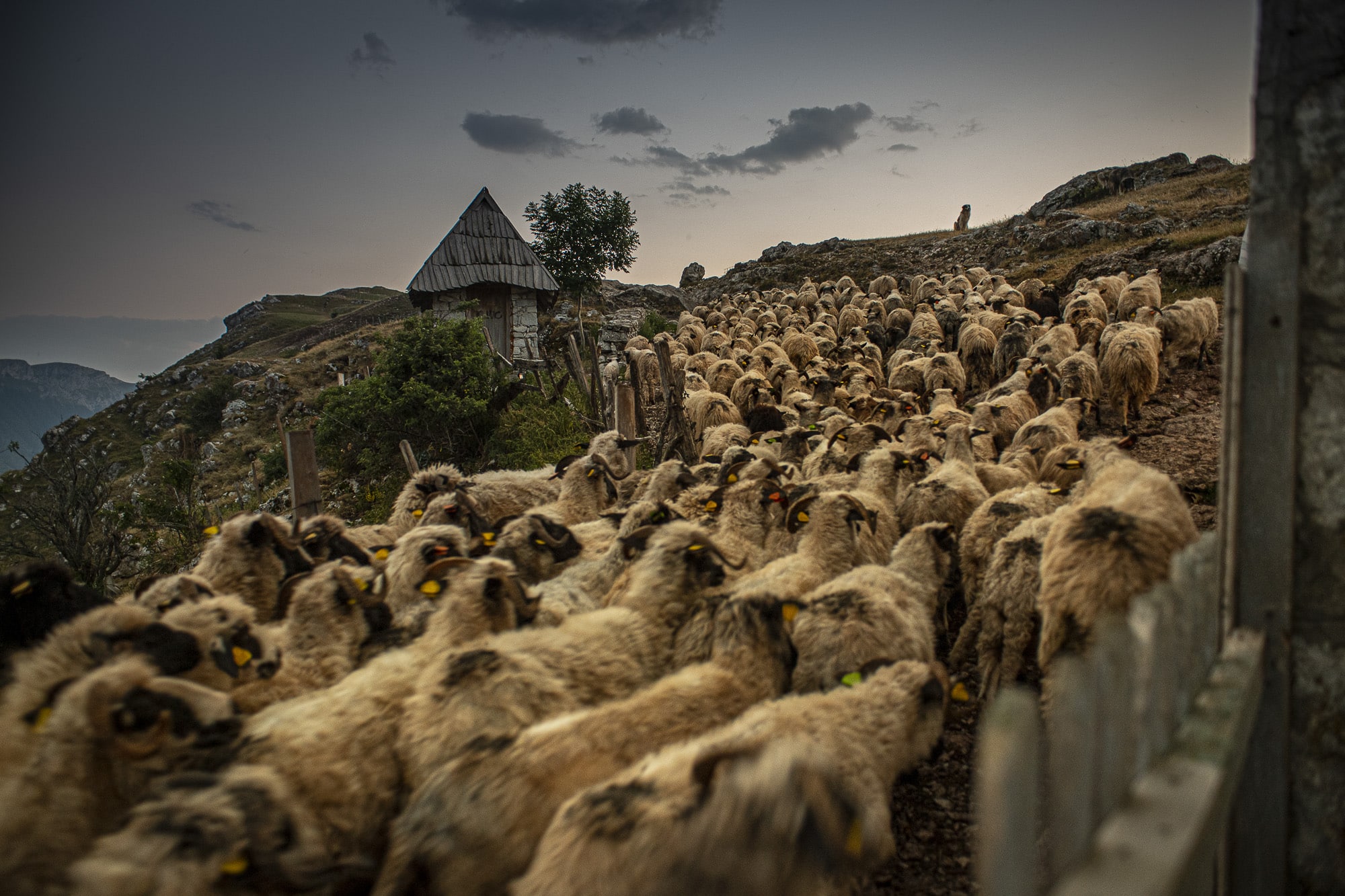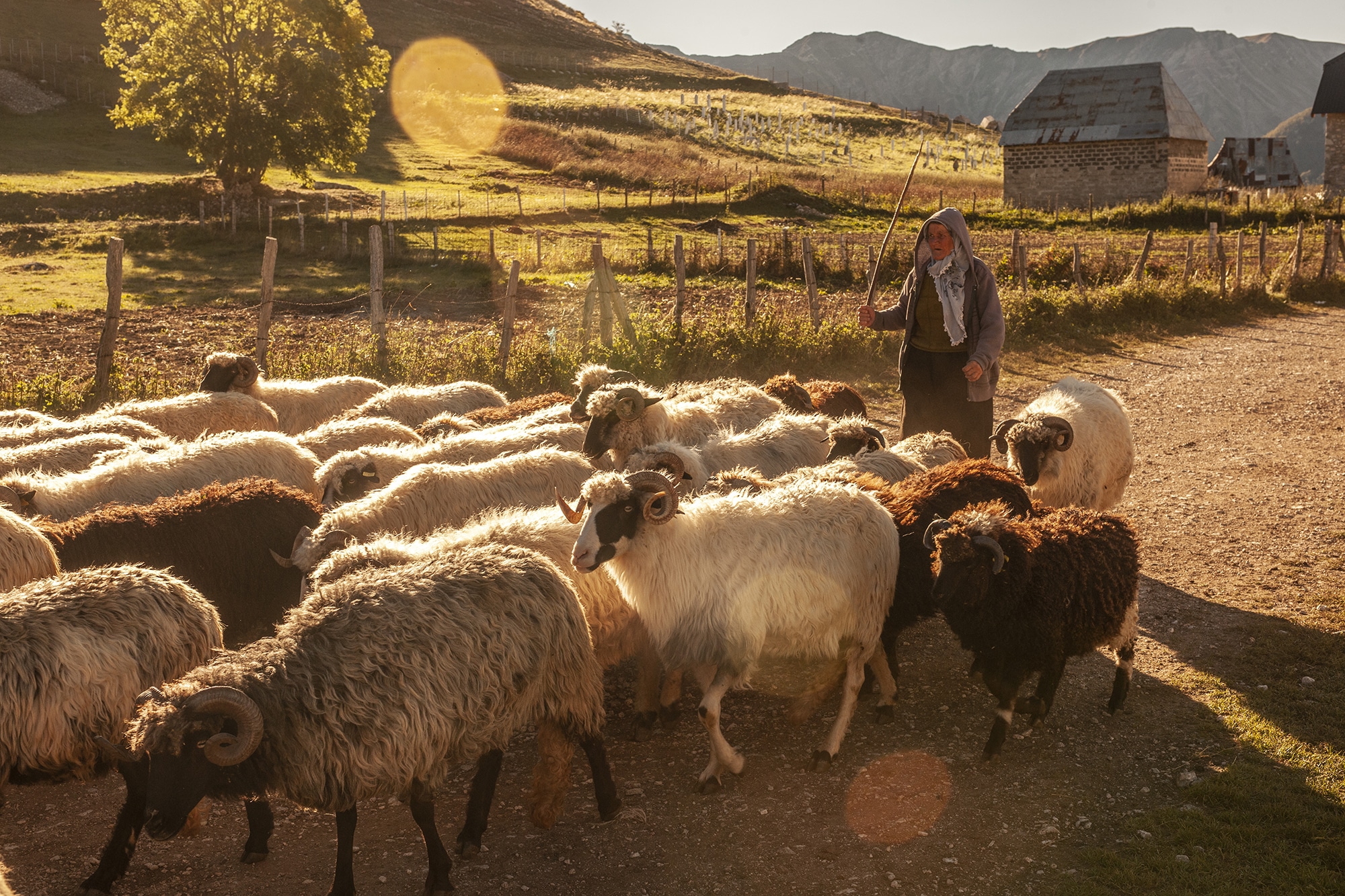 The peace and tranquility,
To be envied.
After a cold night, we see early people outside. Everyday life begins anew. The shepherds leave one by one with their flock back into the mountains. The peace and calm in which everything happens is to be envied. An old woman calls out to us "…Kaffa…?" Well, we want that and in the cottage we drink coffee and a cookie with her. Getting to photograph people in their own habitat and listen to their life stories always feels like a great privilege. When we leave a few hours later, we have more luggage than on the way out.
The promised ladles are ready. We will be given hand knitted slippers, gloves and socks. We leave another pair of reading glasses for a woman who can now see her knitting just fine again. In our luggage is another great experience. We are waved off by wrinkled hands. What will happen to Lukomir when the last female has knitted her last pair of socks?